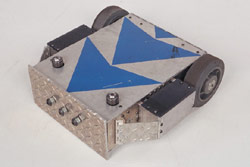 Endotherm was a lightweight robot built by Team Saber which competed in the Long Beach 1999 event and Season 1.0 of BattleBots. It was an invertible blue and silver robot armed with three ramming spikes. It performed decently in competition, reaching the quarterfinals in Season 1.0.
Endotherm didn't participate in either rumble at the end of the tournament as its builder knew their batteries wouldn't be charged for the 1st rumble and feared it to be destroyed in the 2nd rumble.
Team Saber also entered middleweight Fusion and lightweight T.U.S.K..
Robot History
Edit
Long Beach 1999
Edit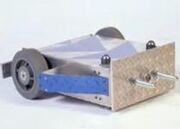 Endotherm's first ever match in BattleBots was against Defiant. Defiant won by KO and Endotherm was now in the loser's bracket, where it faced The Missing Link. Endotherm won by KO at 2:55 and advanced to the next round, where it faced Spike of Doom. Endotherm won by KO as Spike of Doom's motor controller had failed and advanced to the next round, where it faced Sallad. Sallad won by KO as Endotherm ran out of battery power and Endotherm was eliminated from the tournament.
Season 1.0
Edit
After receiving a bye in the round of 32, Endotherm went up against Afterthought in the round of 16. Endotherm won the match on a 8-1 judge's decision and advanced to the quarterfinals, where it faced the spinning disc of Backlash.
After a few hits and misses against Endotherm, Backlash tried to push Endotherm into the hazards. This worked, as Backlash managed to push Endotherm into the killsaws but taking a shot itself, causing Backlash to fly across the BattleBox, landing back on its wheels, continuing the fight. After a little bit more pushing and shoving, both robots ended up in the corner by the pulverizer. Backlash pinned Endotherm underneath the pulverizer to score points and left Endotherm under it for a while. This match went on for the full 3 minutes, both robots still running at the end after pushing each other around the whole time. Backlash won on a 7-2 judge's decision and Endotherm was eliminated from the tournament.
Endotherm wasn't finished, however, as it entered one of the lightweight consolation rumbles at the end of the tournament. After an early charge at The Crusher and getting lifted by Mouser Mecha-Catbot, it broke down next to the red square and was left there for the rest of the rumble. In the end, Cereal Box Killer, Mouser Mecha-Catbot, Rott-Bott 2000 and Sallad were declared the winners of the second lightweight consolation rumble and Endotherm lost overall.
Wins/Losses
Edit
Community content is available under
CC-BY-SA
unless otherwise noted.