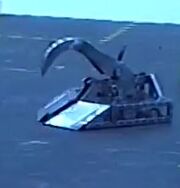 Depis
was a Lightweight robot from Kerava, Uusimaa, Finland. It was a two-wheeled, box-shaped robot armored in polycarbonate, with a metal wedge at the front, and armed with a powerful crushing beak. Depis did well in competition, winning two championships, of which only one is known.
Robot History
Edit
Robosota @ Model Expo, April 2005
Edit
After receiving a bye Depis was in the Semi Finals where its first opponent was The Butcher. This match started with Depis getting around to the side of The Butcher, and immediately using its crushing beak to penatrate the thin armor of The Butcher. Depis then drove The Butcher over to the side of the arena, and crushed it again, at which point The Butcher stopped moving, and was counted out.
This put Depis in the Lightweight Final where it faced The Butcher yet again. This match began like the last one, with Depis crumpling the armor of The Butcher with its beak. However The Butcher than nearly shoved Depis out the arena, but Depis got away, crushed into the rear of The butcher, and shoved it out the arena.
The Butcher was then placed back in, and the fight continued, however the last attack by Depis had damaged The Butcher's drive, leaving it spinning in circles. Depis used this to its advantage, crushing The Butcher again, and shoving it around before delivering a final crush as the seconds ticked down. The judges gave the match to Depis meaning it beacame the lightweight champion.
Series
Event
Round
Opponent(s)
Results
Robosota @ Model Expo, April 2005
25kg Lightweight Division
Semi-Finals
The Butcher
Won
Final
The Butcher
Won
Wins/Losses
Edit
Community content is available under
CC-BY-SA
unless otherwise noted.