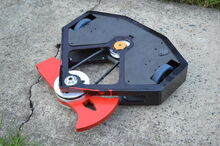 Decimator is a Featherweight robot from Australia. The robot fought in the Featherweight World Championship in 2015 and became a crowd favourite. It also featured in the Robot Wars 2013 mod for Robot Arena 2.
In the first qualifier it fought Minimoth and Wedgie. At first it darts past Minimoth while Flow presses the pit release. Decimator makes it first impact against Minimoth sending both flying. Decimator comes into a second attack against Minimoth sending it towards the pit, But Minimoth ever so slightly survives. Minimoth tries ramming Decimator which buckles the scoop, Wedgie enter the scene and gets smashed by Decimator who ends up bouncing around the arena. Decimator couldn't use its weapon properly now which caused the buckled Minimoth and crippled Wedgie to gang up, however upon being flipped its weapon came back to life and it attacked Minimoth which sent Decimator flying into the pit only for it to bash against the pit and throw itself over the side wall.
In another qualifier it fought Valkiri and Hatchet. It bashed against Valkiri damaging its wheels on one side, it span away but ended up in the pit.
Community content is available under
CC-BY-SA
unless otherwise noted.