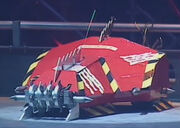 Challenger was a pair of robots which competed in Series 2 and 3 of Robot Wars. Neither version of the robot achieved much success, with the Series 2 version being eliminated in the Joust Trial, and the Series 3 version, Challenger 2, reaching the second round of its Heat before losing to Panzer there.
Driver Steve Dove also controlled one of the stock robots, Eubank the Mouse, in Series 1, as well as joining Team Joint Effort in Series 6 when they entered G.B.H. 2.
Robot History
Edit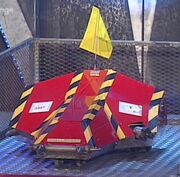 Challenger was the first to run the Gauntlet in its heat and started by trying to smash through the brick wall. After taking several attempts to break through, Challenger then got stuck on the ramp and the house robots came in to inflict damage. Challenger did however cover enough ground to just get through as Griffon failed to travel as far, putting it through in fifth place.
Next was the Trial stage where the robots were up against Matilda in the Joust, Challenger started badly by driving into the side of the ramp, Matilda then came in, pushing Challenger back past the start and cease was called, Challenger was eliminated as it had travelled -1 metre.
The new robot, Challenger 2, fought its first battle against Atlas. Both Atlas and Challenger drove into each other at the start, before Challenger 2 pushed Atlas around the arena. Challenger's weapon buckled the armour of Atlas. Atlas was stuck on the arena wall, and was attacked by the House Robots.
With that victory, it met Panzer. However, the design of the robots meant that Panzer kept driving over Challenger, unable to get pushing power, and Challenger's top spikes failed to hold its opponent on top. Challenger took defensive action, and fled from Panzer. After being unable to attack Panzer effectively, Challenger 2 was pushed into the pit from behind by its opponent. Whilst it was in the pit, Challenger 2 got attacked by the house robots, in particular being hit by Shunt's axe before cease was called.
Live Events
Edit
In one battle in Bordon Charity Even 1999, it fought Chaos 2 where it was flipped over.
Wins/Losses
Edit
Community content is available under
CC-BY-SA
unless otherwise noted.