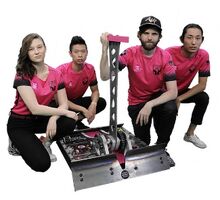 Blue (Chinese: 蓝调) is a Heavyweight robot built by Bots FC from Brooklyn, New York which contested the inaugural King of Bots competition. It is a white, and silver, box-shaped robot armed with very powerful axe driven by two powerful brushless motors. For mobility Blue had four omni-wheels.
Blue is essentially Mega Melvin with a heavier hammer and more armor thanks to the increased weight limit compared to RoboGames, and is a crowd favorite in the western robot combat scene, mainly due to its impressive technical specifications, powerful weapon which rivaled that of RoboGames Superheavyweight Gold Medalist The Judge, and hype that had built up around the machine on Reddit during its construction.
Robot History
Edit
King of Bots Season 1.0
Edit
In the first round, Blue faced flipper EarthShaker. Blue won this fight and advanced to the round of 24.
In the round of 24, Blue faced vertical spinner Thunderstorm. To prepare for the fight, Blue added additional armor to the front of the robot. Thunderstorm, on the other hand, had removed its front wedge. Thunderstorm's builder had originally planned to add extra armor to the top of the robot, but was unable to, possibly due to putting the robot over the weight limit. As the fight began, Blue charged forward while Thunderstorm turned around in place spinning its weapon up. Blue hit Thunderstorm with its hammer and pushed Thunderstorm into the corner, and a belt of some kind appeared to fall out of Thunderstorm. Both Blue and the arena hammer began to pound on Thunderstorm, with Blue getting its hammer wedged in the crack between the weapon and the body of Thunderstorm. Thunderstorm and Blue backed out of the corner, with Thunderstorm turning to go face to face with Blue. Thunderstorm got its weapon spun up again but appeared to be having drive issues, as Blue began to circle it, waiting for Thunderstorm to make a move. Blue then went head on with Thunderstorm, pushing it back into the same corner, where the arena hammer dropped directly onto Thunderstorm's weapon, disabling it. Blue began to hammer Thunderstorm repeatedly, and Thunderstorm seemed to have stopped working entirely, only occasionally twitching. This wasn't enough to avoid being counted out, giving Blue the victory by knockout.
In the round of 16, Blue faced vertical spinner Grill Judge. Blue lost this fight and was eliminated from the tournament. In the TV edit, this was shown as a knockout, but in actuality the fight had gone to the judges as Blue had not been counted out before the match ended.
Wins/Losses
Edit
Series
Episode
Opponent(s)
Round
Results
King of Bots Season 1.0
Episode 3
EarthShaker
Round of 48
Won
Episode 4
Thunderstorm
Round of 24
Won
Episode 6
Grill Judge
Round of 16
Lost
This Is Fighting Robots
Episode 2
Wall Breaker, Saber
Selection Battles
Selected
Bonfire, Griffin Mk II, Ninja
First Battle
Won
Hunting Wind
Head To Heads
Won
Unaired
Bulldozer
Top 20
Won
Formula, Greedy Snake
Top 13
Won
Orlando Maker Faire 2018
Day 1
Gruff
Round Robin
Lost
Yugo Nowhere
Round Robin
Won
Day 3
Extiguisher
Round Robin
Won
Krakin
Demonstration Match
Lost
BouncyBoi
Round Robin
Won
Mammoth
Semi-Finals
Won
Gruff
Final
Won
Community content is available under
CC-BY-SA
unless otherwise noted.