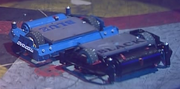 Not to be confused with Black & Blue (Featherweight)
Black and Blue was Team Mousetrap's entry for Series 7 of Robot Wars. It was a clusterbot - each machine a small invertible box with a 20 kg 6000RPM spinning drum. Their name came from the expression "beaten black and blue". As the name suggests, one robot was black, and the other robot was blue. However, they were rather small for what their weight suggested, and were very easy to push around as Firestorm 5 found out during their only battle.
Robot History
Edit
In the final Heat of the Seventh Wars, Black and Blue were placed up against newcomers Daisy-Cutter, former Dutch Grand Finalists Bamm Bamm and the number 2 seeds Firestorm 5 in the first round melee. The battle started very quickly with Firestorm 5 immediately flipping Black. Firestorm 5 then attacked Blue whilst Bamm Bamm used its axe against Blue. Both Blue and Bamm Bamm were flipped over, but being invertible, this didn't affect Blue. Black was then flipped up again by Firestorm 5, then Black was flipped into its twin. Daisy-Cutter then hit Black, which appeared to stop moving, whilst Blue looked to be stuck on the arena wall. Firestorm 5 meanwhile had pitted Bamm Bamm.
Daisy-Cutter nudged Blue towards the pit of oblvion, and Firestorm 5 pushed it in. As Blue was out of the running, this meant that Black was as well, because if one half of a clusterbot is immobilised, both halves are eliminated from the competition. Black, however, had already been immobilised by Daisy-Cutter, so Blue's pitting was only the conclusion as cease was then immediately called, signalling the elimination of Black and Blue.
Series
Event
Round
Opponent(s)
Results
UK Robot Wars

Series 7

Heat P
Eliminator
(2) Firestorm 5,

Bamm Bamm,

Daisy-Cutter

Eliminated
Wins/losses
Edit
Community content is available under
CC-BY-SA
unless otherwise noted.