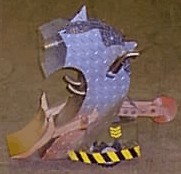 BBC 2 Ident was a robot that was used as Robot Wars' offical ident on BBC 2. The robot was constructed by Team Make Robotics, the same team who built Behemoth, as a side project.
BBC 2 Ident would first be shown in one ident in Series 3, showcasing its weapons. Another ident would later show BBC 2 Ident inside the Pinball arena, with Sir Killalot nearby. A third ident consisted of Philippa Forrester introducing Robot Wars, as BBC 2 Ident moved on screen.
In later series, other idents not related to Robot Wars, such as the Kebab ident, would be used instead, hence replacing BBC 2 Ident in its role. It does, however, make a cameo appearance in a special introduction featuring Julia Reed for the Southern Annihilator.
BBC 2 Ident was a multi-coloured robot that used a metal BBC 2 logo as a base. It was armoured in 3mm of aluminum checker plate, 1mm of aluminum sheet and styrene. It was armed with a servo-operated front bucket and rear arm, as well as a flame thrower and a cutting disc that was created by combining two CDs together.
BBC 2 Ident was based on the house robots from Series 2, taking parts from all five. This included Dead Metal's disc, Matilda's horns, Sergeant Bash's side, wheels and flamethrower, Shunt's scoop and Sir Killalot's mesh. BBC 2 Ident was eventually completed after Series 2.
Outside Robot Wars
Edit
Although it did not compete in any battles, BBC 2 Ident has appeared in various Live Events along with Behemoth.
Community content is available under
CC-BY-SA
unless otherwise noted.