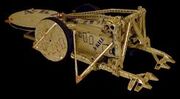 A-Kill was a competitor robot that fought in Series 6 of Robot Wars. It reached the second round of its heat before being defeated by former champion Panic Attack.
The robot was based on Team A-Kill's middleweight of the same name, which competed in the Middleweight Melee and War of Independence in Series 3. Team A-Kill also attempted to qualify for Series 6 with Saw Point, which subsequently entered Series 7 and the second series of Robot Wars Extreme.
Robot History
Edit
A-Kill competed in Heat I, and faced Terrorhurtz, Sabretooth and Reptirron The Second in its first round battle. It trundled straight into Terrorhurtz, failing to lift it or cause damage with its disc as Terrorhurtz swung its axe and landed a few blows on its decidedly fragile body. A-Kill lost one of its wheel covers while spinning in circles, before attacking Reptirron the Second as Terrorhurtz switched its attention to immobilising Sabre Tooth. Reptirron the Second became immobilised as well following this attack and a subsequent series of blows from Terrorhurtz, who dragged Reptirron the Second onto the Flame Pit while Refbot counted Sabretooth out. A-Kill continued to be chased and axed by Terrorhurtz until the end of the battle, with both robots progressing to the second round.
There, A-Kill was drawn against the eighth seed, and former series champion, Panic Attack. It circled round Panic Attack as both robots met in the centre of the arena, and hit Panic Attack's forks as it was lifted, but causing little damage. A-Kill drove straight onto Panic Attack's forks on its second charge, and was lifted, with Panic Attack wedging itself onto and pushing A-Kill forwards until both robots separated. It responded by trying to lift and hit Panic Attack with its lifter and hammer respectively, but again without inflicting any damage to Panic Attack. Panic Attack pushed A-Kill into the arena wall, before lifting it onto its side after the latter escaped. As A-Kill was lowered, its disc locked up against Panic Attack's forks again as Panic Attack pushed it towards the Flame Pit, lifted it again and carried it into Shunt's CPZ. A-Kill escaped, only to be lifted by Panic Attack again, pushed into the pit release button and lowered on the edge of the opened pit. Panic Attack then bumped A-Kill in, eliminating it from the Sixth Wars.
Series
Event
Round
Opponent(s)
Results
UK Robot Wars Seris 6
Heat I
Eliminator
Reptirron The Second

Sabretooth

Terrorhurtz

Qualified
Semi-Final
(8) Panic Attack
Lost
Wins/Losses
Edit
Community content is available under
CC-BY-SA
unless otherwise noted.