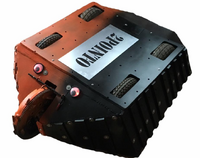 2PointO
(Also known as
2.0
or
2 Point O
) is a four-wheel driven Heavyweight robot built by Team 2.O. It is an orange and black painted roughly reverse-wedge shaped robot armed with a spinning cutter at the front. The team applied to enter Robot Wars Series 10 with it but it was not selected to take part but it made its combat debut at the Extreme Robots Event at Gloucester 2017.
Robot History
Edit
Extreme Robots (Gloucester 2017)
Edit
2PointO made its combat debut at the Extreme Robots Event at Gloucester 2017 which was the very first event in 11 years to allow Heavyweight Spinners to compete. Its first battle was against Up Vote and Gabriel where it did reasonably well attacking the back of Up Vote and Gabriels wheels with its cutter and also surviving Gabriels sword. However after taking plenty hits from Gabriel, 2PointO started to slow down as did Up Vote, there was even a chance at which the pit opened to push Gabriel down but 2PointO struggled to do so. Eventually, 2PointO died after taking more hits from Gabriel and lost the fight. Next 2PointO fought in a four-way melee against Donald Thump, Griffalo and Gabriel again. 2PointO got its weapon up to speed and attacked the other 3 robots and held its own very well against Gabriels sword again. 2PointO then turned on Griffalo and Donald Thump who were in their duel near the decending pit and pushed both of them down eliminating them. After taking a few more hits from Gabriel it started to suffer damage from the swinging sword of Gabriel with gashes spreading all over its top panels, it broke down in the last 10 seconds of the fight and was immobilised. 
Series
Event
Round
Opponent(s)
Results
Extreme Robots 2017
Gloucester
Round 1
Up Vote

Gabriel

Lost
Whiteboard
Donald Thump

Gabriel

Griffalo

Lost
Extreme Robots 2018
Manchester
Round 1
Infernal Contraption
Lost
Whiteboard
S.M.I.D.S.Y.

Lunatic

Lost
Extreme Robots Championships 2018
Cheltenham
Round 1
ST-Ripper
Won
Quarter-Final
Donald Thump
Won
Semi-Final
Aftershock
Lost
Play-Off
Beast
Lost
Community content is available under
CC-BY-SA
unless otherwise noted.